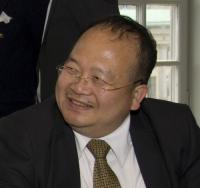 On June 25th Dr. Robert Lai (Mr. Lai Chi Tau) Chief Scientist of China's Cyber Recreational District (CRD) passed away in his sleep at the age of 50. I met Robert at the Virtual Worlds Conference and Expo (VWCE) and in November I had the privilege to be invited by Robert to speak at the Virtual World Summit a part of the ICCIE Summit. As his guest I got to know Robert and came to regard him as a friend.
We all have aspirations great and small. Though he had lived his life as a scientist and teacher and was at that time the public face of the CRD, Robert's dream was a modest retirement on a hillside in China. The CRD was to be his last task before relaxing and living the simple life. It saddens me to think Robert won't get that chance. I hope he was dreaming that dream the night he left us in his sleep.
Robert was a man who you could not help but like. A man who you felt you could trust and who regardless of what happened around him would treat you with respect. He had an infectious love of life that was only tempered by the his role and place in the world. I will miss my friend Robert and how he represented to me the many sides of China as it enters this brave new world.
Farewell to our friend Robert, you will always be China to me.