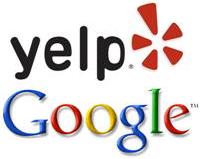 Yelp has been growing at a good clip and in the last couple days touted how well they were doing. This growth was probably a big factor in Yelp's rumored $200 million valuation on its fourth round in February. A lot of this growth has been fueled by the excellent SEO that they receive as a result of a partnering arrangement with Google.
I noticed recently that Yelp isn't as prevalent in my searches. Where Yelp used to show up almost every time I Googled a restaurant, instead it looks like Yelp competitor Citysearch is Google's new review partner.
We haven't seen a press release yet, but if Yelp has lost its relationship with Google this could lead to a downturn. While they may have the best reviews, that will mean little if people can't find them. Could Yelp's recent crowing be a scramble to paint a pretty picture before the decline?